Pulte Family Charitable Foundation Releases 2021 Annual Report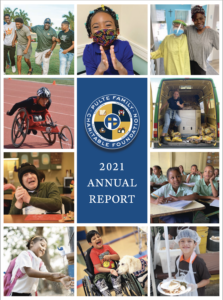 The Pulte Family Charitable Foundation provides financial support to charitable organizations through Mission Giving, Legacy Giving, and Educational Initiatives. The Mission Giving Program supports eligible 501(c)3 organizations who are doing work aligned with the Foundation's giving criteria through grants. The Legacy Giving Program continues Bill Pulte's legacy of generosity by allowing his family to provide direct giving to charitable causes.
In 2021, the Pulte Family Charitable Foundation supported 170 organizations making grants and donations of $5,783,166.
This includes $4,189,950 provided through the Mission Giving Program, $289,995 provided through the Legacy Giving Program, $88,725 provided towards Scholarships and Educational Initiatives with additional $4 million to a Donor Advised Fund at the University of Notre Dame to support future scholarships and educational partnerships, and $1,214,496 provided through direct donations to charitable initiatives aligned with our mission.