The Businessman
Bill built his first home in 1951 at age 18: a five-bedroom bungalow near Detroit's City Airport. Bill spent the next seven years building custom homes throughout the Detroit metropolitan area and incorporated William J. Pulte, Inc. In 1959, Bill introduced plans for his first subdivision, Concord Green, in Bloomfield Township, Michigan. Bill understood that buying a home was so much more than a simple purchase. To a family, buying a home was buying a dream. To this end, Bill aligned Pulte with the progress of baby boomers, providing them with affordable homes for each life stage: starter, family, and retirement.
The 1960s were years of rapid growth as Pulte entered the Washington, D.C., Chicago, and Atlanta markets. Bill was an expert at acquiring and building up local and national builders. Pulte went public on the American Stock Exchange in 1972 and Bill subsequently established ICM Mortgage Corporation to offer convenient financing and competitive mortgage rates. During the 1980s, the company closed more than 4,500 homes per year in 11 states, with revenues of $294 million. Bill founded Pulte University in 1980 to train his homebuilders. The company entered the New York Stock Exchange in 1983. Bill helmed Pulte's 1988 acquisition of five thrift institutions, which subsequently merged to form First Heights Bank, a federal savings bank. By 1995, Pulte Corporation was the largest homebuilder in the United States, earning recognition as "America's Best Builder" from the National Association of Homebuilders and Builder Magazine. Pulte continued to enter new markets during the late 1990s and in 1998 signed an exclusive agreement with General Electric to supply all Pulte homes with GE branded appliances. Pulte became a Fortune 500 Company in 1999, selling a record 26,622 homes.
The company celebrated its 50th anniversary in 2000 with a presence in 41 markets in 25 states, as well as operations in Mexico and Puerto Rico and expansions into Argentina. In 2005, Pulte shattered its previous record by delivering 45,630 homes with consolidated revenues of $13.7 billion. Pulte debuted on the Fortune Global 500 List in 2006. Fortune Magazine recognized Pulte as one of the world's most admired companies in 2010. Bill announced his retirement that same year.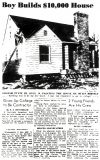 The Family Man
Bill's love for family was second only to his love for God. While the public knew Bill as a homebuilding giant, his family knew him as a dad raising 14 children. Bill always tried to be home by 6:30 p.m. and was an excellent after-dinner pop fly and ground ball hitter. "Freedom with responsibility" was Bill's parenting motto, and he was determined that all Pultes from an early age understand their responsibility to give unto others. When his youngest was five and his eldest 16, Bill decided the family should take on a project each Christmas. Projects included donating to senior communities, collecting gifts for families in need, and visiting homes for the disabled. Bill let his children pick and plan the projects. This philanthropic spirit translated into everything Bill did, and today his children, 27 grandchildren, and six great-grandchildren carry on his legacy.
The Philanthropist
Bill was a quiet giver who shared his resources and faith in support of organizations and communities that reflected his vision of a more caring and compassionate world. Often religious leaders called upon him to replace the church or school roof or air conditioning units, remodel the living quarters and support their soup kitchens. Others came to him for seed money to build orphanages, houses, and classrooms. Bill helped provide needy families in Detroit with shelter, heat, and electricity. Bill also served as an philanthropist for Detroit's Cornerstone Schools, providing education for thousands of young Detroiters. One of Bill and his wife Karen's favorite missions was building homes and shelters for those in poverty. Together, they donated thousands of housing units and shelters to Central America's poorest communities.
Bill passed away in 2018 at the age of 85. Not only was Bill a homebuilding icon, but he was also a visionary leader who impacted how the entire construction industry operates today. Bill's legacy of faith, kindness, hard work, and selfless charity are the guiding spirits of the Pulte Family Charitable Foundation. The Foundation carries forward his passion and dedication as we fund organizations that are committed to solving complex issues plaguing underserved and at-risk populations.