MCLAREN NORTHERN MICHIGAN TO BUILD AN INPATIENT BEHAVIORAL HEALTH UNIT AND PARTIAL HOSPITALIZATION PROGRAM IN CHEBOYGAN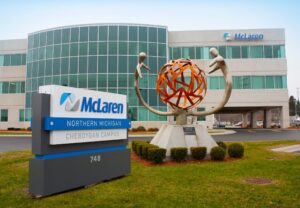 McLaren Northern Michigan is addressing the need for behavioral health services in our region by developing the Justin A. Borra Behavioral Health Center. Thanks to funding from the State of Michigan and generous donors, plans are moving forward to renovate the McLaren Northern Michigan Cheboygan Campus to house a new 16-bed adult inpatient behavioral health unit and partial hospitalization program. These new behavioral health services will offer a continuum of care to help address the local and regional behavioral health crisis.
In 2020, McLaren Northern Michigan's two Emergency Departments saw 892 behavioral health patients. Every day, at least two of these patients need to be transferred to an inpatient facility but must remain in the ED because an inpatient mental health placement is not available in the state. Some patients wait days or even weeks before they can be placed. The entire state of Michigan has just over 3,000 licensed psychiatric inpatient beds—with only 35 licensed adult beds in the 22 counties that McLaren Northern Michigan serves.
Nancy Pulte Rickard, president of the Pulte Family Foundation, stated: "Our family, like so many other families, has been impacted by mental illness. Our Founder William J. (Bill) Pulte would have been proud of the decision made by the Pulte Family Foundation Board to make this contribution to the Adult Inpatient Behavioral Health Unit at McLaren Northern Michigan. Our father created tremendous goodwill through the business he founded, Pulte Homes, which grew into a Fortune 500 company. The Foundation is committed to giving back nationwide to states and communities that have supported Pulte Homes over the last sixty-plus years. We hope that through the Pulte name, the Foundation can be a catalyst to others who want to help break the stigma of mental illness by shining a light on the topic. We see this contribution as an important means of continuing Bill's legacy, as well as of honoring all who are suffering, or have suffered, from mental illness."